'I think Baytree National Golf Links is one of the best courses I've ever designed.' - Gary Player
Welcome to our Community
Sign up for the Visitor Management System on the CDD site click here for forms and Instructions
We have a news letter again. Click

for the current issue or Look under the Documents tag at the top of the page for historical copies.
Come to the Food Truck party May 22nd. Click

for details.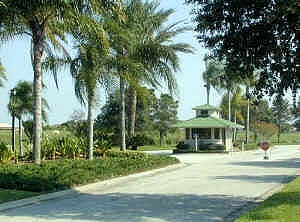 Main Gate
Baytree's eight neighborhoods are woven into a landscape of pristine wetlands, dense hardwood hammocks, mirrored lakes and sculptured fairways. Each neighborhood reflects its own distinctive character that compliments the community's unique and upscale lifestyle.
"The Views throughout the community are breathtaking, far superior to those of any other community along the space coast. The sounds of nature surround you. You can't believe you live in a city" 
Every home site in Baytree is situated on a wooded nature preserve, manicured fairway or pristine lake providing every homeowner a spectacular and unique view of our beautiful community.
The Baytree main entrance sets the tone for an enhanced sense of arrival. It establishes the community's tone of privacy, intimacy and level of excellence that is carried out throughout the community.
In addition to a beautiful community pool facility,, tennis courts and miles of cycling and jogging paths, is the Gary Player Signature Golf Course at Baytree National. 
Baytree National is over 7043 yards covering 160 acres of gently rolling terrain, and featuring five sets of tees to fit all level of skill. Incorporating a design philosophy which rewards golfers rather than punishes golfers, the course is beautiful, challenging and great fun. There is a difference of 500 yards between each set of tees. 
Baytree National also features a 7,000 square foot putting green, practice bunkers, a large driving range with six target greens and a beautifully appointed club house. Browse through a well stocked proshop or use the fully equipped locker room facilities.
All the amenities of a private country club available to Baytree residents in a semi–private, non-equity club in which members enjoy all the privileges of a more traditional club without the high initial cost or potential burden of future assessments.
"Baytree National is an elite private club that happens to be open to the public!"
Welcome Home
Deed Restrictions - Baytree Policies and Architectural Review Committee Standards (B-PARCS)